At Fairfield Community Primary School we aim to promote positive health and wellbeing for our whole school community (children, staff, parents and carers), and recognise how important mental health and emotional wellbeing is to our lives.

Mental wellbeing doesn't have one set meaning but describes your mental state. We might use it to talk about how we feel or how well we're coping with daily life. Our mental wellbeing can change from moment to moment, day to day, month to month or year to year. Having good wellbeing is important because it helps us cope with the stresses of daily life and adapt and manage in times of change or uncertainty.
Optimistic October
Especially when things are feeling a bit tough, it can help to set some goals. Making goals achievable and ensuring that you have a few short term as well as longer term, more ambitious goals helps us feel we're making progress. It doesn't matter if your goal for the day is something really small, the important thing is to give yourself the opportunity to feel like you've achieved something and to celebrate that! This month's calendar is full of ideas to help you think about how you can put this into practice.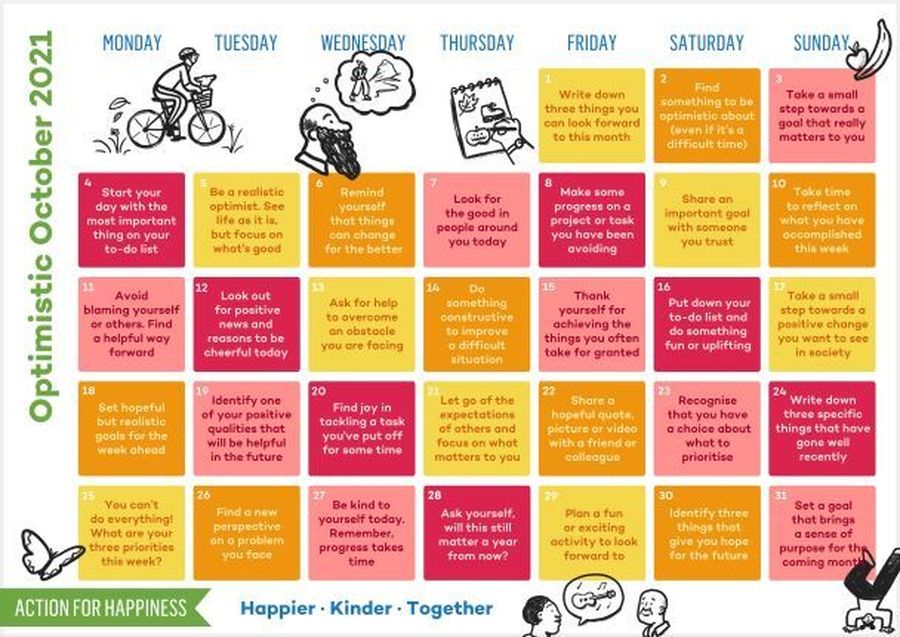 Below are some ideas and activities to try at home