Mrs Channell - End of an era
Mrs Channell - End of an era
9 July 2020 (by Jane Stuckey (JStuckey))
Our Deputy Head, Mrs Channell, is retiring.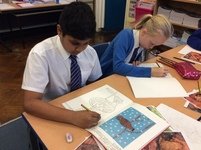 24th June 2020
Dear Parents/Carers
With great sadness I am announcing that our Deputy Head, Y6 teacher, friend and colleague, Debra Channell has informed us that she is retiring at the end of this term.This is a huge blow to us as Debra's contribution to the school has been immense over a twenty year career at our school where she has played a major role in making Fairfield school the successful institution that it is. Her arrival in September 2000 coincided with our vision for Happiness and High Standards beginning to become a reality and our local reputation soaring.
Our selection of teachers is a very careful one and I first became aware of Debra's abilities when observing her at work with her class at Grecian Street School in Salford. I could immediately see her insistence on the best possible outcomes of every piece of work from her pupils but also the very warm relationships and deep care for every single child that has been at the centre of her work throughout her teaching career. As always, the lesson I observed (this one about the Romans) was made humerous and engaging and I even stayed in the classroom and later appointed her after she pointed out to the giggling children trying not to stare at me, that Julius Ceasar was bald!!
Debra joined us as Special Needs Co-ordinator and brought organisation and imaginative targets to children with difficulties whilst developing extremely strong links with outside agencies. In the classroom, we began to see the mastery of basic skills that we had been striving for in Y6 and very rapid progress which from then on have enabled us to build on the strongest practice in our younger classes and to "punch above our weight" in national assessments. Her excellence soon led to requests from the LA for teachers to observe her in action and for many years she has been called upon to moderate primary schools' writing. Our end of year assembies became highlights and our school films (shot by her husband, Simon) potential Oscar winners. The strongest of relationships meant that unlike many schools, Y6 discipline never became a problem and this was always illustrated by the hoards of high school children desperate to come back to visit and to tell us how they were doing.
In 2011, Debra became Deputy Head and like her predecessor, Mrs Johnson, "had my back" and enabled me to be as happy and proud as I have always been to be Headteacher of our great school. She played a major role in our recruitment processes and her input has helped us to where we are now, with the strongest staff team I have worked with in 37 years in schools.
It is desperately sad that Debra's career is ending as it is without our full Y6 or the last success in national assessments that we were antipicating. However, we will get to say a proper goodbye in the autumn when we hope to host an evening for our leavers without social distancing pressures. However, Debra's main reason for retirement is a happy one as she will be spending time with her brand new baby granddaughter, Robyn and making sure that her other grandchildren, Daniel, Emily and Thomas are just as happy as she has always made Fairfield children.
I am sure that families past and present will want to appreciate Debra's time with us and can contact school with any tokens of appreciation.
This year's Y6 children in school will still be making one last of the legendary films and I am delighted that from next week, the Y6 bubble will be taught mainly by Debra until the end of term. Children not in school will be invited to contribute to a virtual assembly by putting memories in film or writing onto Purple Mash for us to collate.
News of next year's classes will be going out in the coming weeks but I am delighted that Mrs Tomlinson and Mrs Goff are creating a two person Assistant Headteacher team to carry us forward and that Miss Woods will join Mrs Stuckey and Mrs Harrison as a new Y6 team keeping up our standards.
I am sure you will all join me in wishing my great friend Debra every happiness for the future and in thanking her for an immense contribution to Fairfield.
C.J. Ashley